Hope is found here. Take it with you.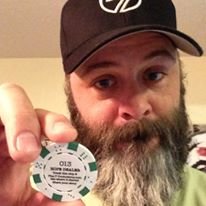 Hope Chip #13 made it's way to 40165 Kentucky, home of the founder of sobrsoldier.com and Saints&Sinners SC(Survivor Club).
Irony of it's start is it started it's journey less than 5 miles from Jim Beam Distillery, Four Roses Distillery and 10 miles from Marker's Mark Distillery.
Note from Plus P Productions: This man's artwork is awesome, and his site is well worth the visit. We're really glad that a chip made it his way, I'm sure that it was a great place for it to start and we bet he's got great plans for it's next leg.